When it comes down to taking an ACT exam, you are not allowed to use any calculator. ACT policy allows certain calculators that you can take with you to the examination centre. Using a calculator that doesn't fall under the ACT policies could result in termination of the exam.
In this guide, we will list some of the highly recommended calculators for the ACT Exam. These are approved by ACT and you can take them along with you to an examination centre without any issue.
---
What is an ACT Exam?
In the ACT exam, your knowledge is tested in various subjects like English, Science, and Math. When compared with the SAT, this test gives you a very tough time, especially when it comes down to the Math section.
The questions asked are from advanced mathematics including matrices, logarithms, and trigonometry. If you are comfortable with high-level math computations, ACT math will be a piece of cake for you.
What you have to be worried about is that in ACT you have 30-60 seconds to solve a problem. So time management is the key to score high in it.
Specifically for lengthy math calculations, you must have a gadget that you have mastered before sitting in the exam.
The ACT exam authorities have already issued a precise calculator policy. So before buying a calculator, you must go through it.
Bringing a calculator that does not fall in the criteria would lead you to expulsion from the examination hall. So to be on the safer side and to meet any uncertain scenario we have discussed ACT-approved calculators so the students can ace the exam easily.
Good to Know
The ACT generally allows test-takers to use any four-function, scientific, or graphing calculator. It's essential to check the ACT website or contact the testing centre to confirm the current calculator policy.
Before the exam begins, test-takers are usually required to perform a calculator self-check. During this self-check, the calculator's memory is cleared, and any stored programs or data are deleted.
While most scientific and graphing calculators are permitted, there may be specific models that are not allowed due to their advanced features or capabilities.
The ACT typically requires that all programs and data in calculator memory be cleared before the test.
---


Best ACT Approved Calculators
Here are the most recommended graphing and scientific calculators to consider:
1. Texas Instruments TI-84 Plus CE Graphing Calculator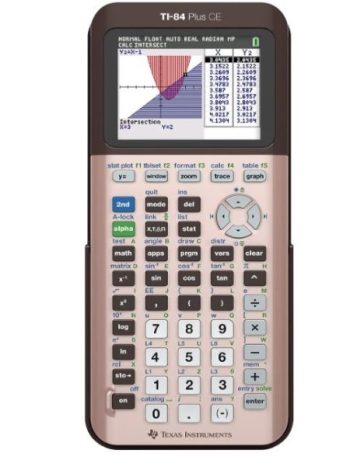 The device has almost all the features  ACT calculator policy demands. From soundless buttons to a long-lasting battery TI 84 PLUS satisfy its users.

Ti-84 Plus CE is the most recommended and widely used device by the students of high school and college.

The unit comes with an easy-to-use interface. What makes it more captivating for students is its sleek design.

Ti 84 plus CE has all the essential features that are required to solve ACT problems, and well is considered among the best calculators for the SAT.
Features
Its 3.0 MB ROM makes it easier to perform multiple tasks simultaneously.
Its high resolution of 140DPI 16-bit colour screen improves the readability. Additionally, its backlit screen adjusts the brightness according to day and night light.
It has pre-loaded functions for pre-algebra, trigonometry, statistics, chemistry, physics, and calculus.
With its special commands, you can solve matrices, determinants, ad joint, and row-column operations.
Ti 84 plus CE graphing calculator has specific science tools to solve science-related problems. Different units can be converted easily with a single click.
For statistics questions it can solve mean, median, mode, real data analysis and probability functions.
It can also calculate square root equations.
With Cabri Jr, you can find interactive geometry tools to tackle geometry problems.
With its equation solver, you can solve linear equations up to third-degree polynomials.
Comes with a rechargeable battery
Does not follow the QWERTY keyboard design
Can perform basic four functions
2. Casio fx-9750GII Graphing Calculator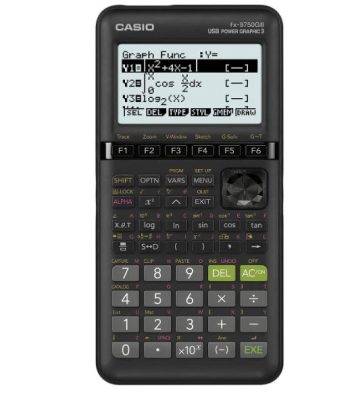 If there is one option that is budget-friendly and loaded with a lot of functions required in the ACT exam, Casio FX 9750 GII is the name that crosses the mind of a person.

This calculator can be used for standardized tests like ACT and SAT.
It has a customer-oriented interface.

Menus are easy to use and do not need cramming. One can easily master the unit using its detailed how-to guide.

It has the fastest processor that can do lengthy ACT calculations in no time.
Features
It can deal with all the basic level problems related to statistics, algebra I and II, geometry, and trigonometry.
The unit can also evaluate basic-level graphic calculations.
Casio fx 9750 GII entertains all the basic calculations of AP statistics, business and finance, pie charts, and bar graphs, and it also has a single-step graph solve feature.
It has a non-backlit LCD that uses enlarged dot area technology. It has the capability to display 21 characters per eight lines.
The resolution power of the device is 128 by 64 pixels which is more than enough to
The device has sufficient RAM of 62 KB which generates swift results when compared with its other competitors having more powerful processors.
Casio is powered by 4 AAA batteries. The batteries are non-rechargeable.
When compared with calculators having graphing features, the processor of the device does not have to support many pixels, hence generating the output quickly.
It can solve square roots, minimum, maximum and point of intersection.
The device can also handle Statistical plots including scatter plots, x y Lines, normal probability plots, histograms, and box plots.
It can also solve matrices, intersects, simultaneous equations, conic graphing, recursion graphs etc.
It works well for probability problems.
Power functions like square root, cubic root is displayed in the form of radical and radicand.
Functions like factorial, random numbers, inverse and fractions can be evaluated easily by the unit.
Casio can entertain the questions of GCD and LCM.
A detailed user guide, unit-to-unit cable and a sliding case are also included inside the package.
As per ACT rules, the device is supported by 200-plus hours of non-rechargeable batteries
The device is driven by the icon-based menu which is easy to operate
Bulky design
Lack of memory for advanced functions
No software upgrade
3. TI-Nspire CX II Graphing Calculator – Best Value ACT Calculator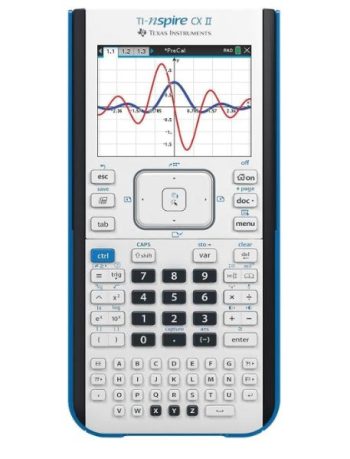 Captivating scores in the ACT exam needs a speedy gadget that can return output within no time.

This incredible unit with its fastest processor can solve the complex of equations easily.

The device comes up with outstanding features to solve algebra, mathematics, calculus, geometry, and graphing.

Despite its advanced functionalities, it is recommended for the ACT exam.
It comes with the dimensions of 0.62 x 3.42 x 7.5 inches.

It has a resolution of 125 DPI; and 16-bit of 320 x 240 pixels. The problem solver is the thinnest and lightest among other Ti versions, and it weighs 12.6 pounds.

With its user-oriented interface, the students can easily navigate through its menus without memorizing a number of keys.

A huge display screen along with a rechargeable battery is something which differentiates it from its other counterparts.
Features
Its coloured and soft tabs make them easy to read and navigate.
The programmed capabilities in this device have been made advanced. Now you can design the code of your own choice for math, science, algebra and various others.
CAS OR Computer Algebraic System in this device allows its users to enter the numeric and alphabetical values simultaneously.
It can also draw and analyze geometric equations easily.
The unit can also solve the problems of physics, chemistry, and statistics.
Its rechargeable battery can last for more than two weeks on a single charge.
It visualizes the equations and formulas in proper math notation form.
It has a sleek design and is easy to handle.
The device is approved for the ACT exam.
It previews graphs in six different styles.
Its 3D capability allows you to construct geometric animations.
Its dynamic coefficient values allow you to find a relation between equations and graphs.
The rechargeable set of batteries is included in the box
Its faster processor returns your answer in the minimum possible time
USB port in the device helps you to communicate and transfer data with other devices
The device comes with a hefty price tag
The user needs maximum time to master it completely
4. Texas Instruments TI-83 Plus Graphing Calculator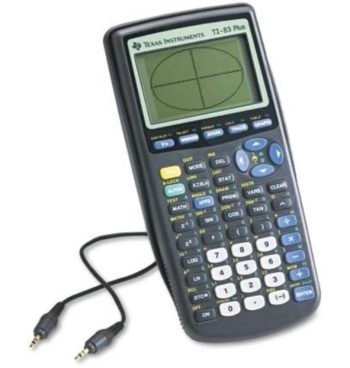 Ti 83 Plus graphing calculator is the most budget-friendly calculator when compared to other calculators with the same technology.

It can handle the basic problems of math, science, algebra, statistics, and physics.

It is approved for various standardized tests like ACT, SAT, AP, and PSAT.
Features
It offers a readable display of 64 x 96 pixels, 8 x 16. It has 24KB RAM and 160KB Flash ROM memory.
Its LCD displays 12 characters per eight lines.
The unit comes in handy and weighs 8 ounces.
It can measure voltage, light, sound, and temperature using pre-loaded apps.
Math print technology allows the students to enter the values in proper math notation.
You can solve simple and complex numbers by using this remarkable device.
Its statistical capabilities help you to analyze and compare graphical data in six different styles.
The unit is compatible with other Ti devices and supports new software updates.
An I/O port is made part of its design to transfer data from one device to another.
It gives you a better view of equations, graphs and coordinates simultaneously.
It comes with a detailed manual user guide
A protective slide case is included in the package to protect it from any external damage
Durable
t can have a steep learning curve for users who are not familiar with its functions and capabilities
While it has some programmable memory, it can be limited for more complex programs
Pros
It comes with a detailed manual user guide.
A protective slide case is included in the package to protect it from any external damage.
5. Casio fx-115ES Plus ACT Scientific Calculator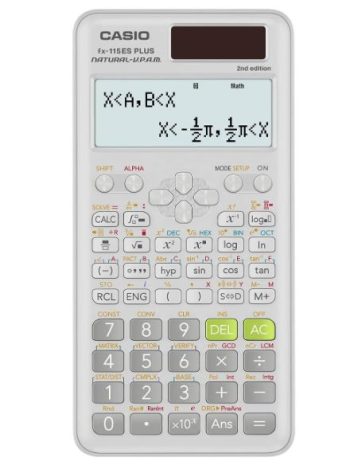 The unit is ideal for primary-level calculations. It is loaded with all the essential functions required for the ACT test.

It can simplify problems related to math, trigonometry, science, algebra, and statistics.

Besides it can analyze logarithms and conversions. To differentiate your scores its high-speed processor returns output within a second.

What makes it more appealing to choose is its rechargeable battery that counts in lengthy tests like ACT.
Features
It comes in the dimensions of 6.25 x 3.25 x 0.75 inches.it is lighter in weight and weighs 6.1 ounces.
It can solve fractions, statistics, complex number calculations, basic arithmetic, linear regression, standard deviation, computer science, polar-rectangular conversions, matrix and vector calculations, numeric integration and differentiation.
Trigonometric problems can be evaluated by using this problem solver.
Units like meter, second etc can be converted through its already built-in app.
This unit is allowed for standardized tests like ACT and SAT.
It can also perform basic graphic functions like maximum and minimum, point of intersection.
It can convert decimal to fractions.
With its multi-replay function, you can navigate through past entries made.
It has 200-plus hours of battery timing.
The unit is capable of solving more than 20 metric conversions.
Comes with an icon-based menu
Cheap
Heat-resistant
Powered by solar backup
It does not entertain third-party updates
---
FAQs
Which calculator is best for the ACT?
Before buying any calculator you must go through the ACT calculator policy. Just like other exams, they have issued a set of policies to which devices must comply. You will not be allowed to use any calculator other than the permitted ones.
Which calculators cannot be used in the ACT exam?
The calculators with certain features are banned by ACT authorities. Those with noisy buttons, rechargeable chords and that are programmable with more than 25 logical lines of codes.
Secondly, any device with a QWERTY keyboard is not allowed in the ACT exam. Here is the list of calculators that you cannot use during the ACT exam.
Texas Instruments model numbers that begin with TI-89 or TI-92 as well as TI-Nspire CA
Hewlett-Packard: HP Prime, HP 48GII, and all models that begin with HP 40G, HP 49G, HP50G
Casio: fx-CP400, Class Pad 300 of 330, Algebra fx 2.0, all model numbers that begin with CFX-9970G
Is the TI-83 or the TI-84 Plus better for ACT?
Both these devices are allowed in the ACT exam. However, Ti 84 plus is faster in returning the result as compared to Ti 83 plus. When compared in terms of cost Ti 83 plus is more budget-friendly with almost all the functions Ti 84 plus possess.
---
Conclusion
In this article, we have mentioned the calculators that can be used in the ACT exam. There is one rule to boost your scores, no matter which product you choose for yourself.
You must master all its functions before sitting in the exam. Go for the unit that seems easy to use and offers around 70% of the features the ACT test demands, instead of the one with fancy and complex functionalities.