Undertaking a CA exam is no less than a roller coaster ride. A chartered accountant is no doubt one of the most difficult courses to qualify for. It is a combination of different courses like cost and financial accounting, auditing and taxation, etc. So, you will have a good calculator to solve complex equations in the CA/CS exam.
Almost 90 percent of this course involves calculations and complex computations. To simplify these calculations one needs to rely on a device that is efficient and durable at the same time. As the market offers a variety of products it is difficult to pick one from a pool of options available.
In this article, we have discussed each product in detail to help you choose as per your needs.
Factors to Consider Before Buying a Calculator for CA/CFA/CPA
Well if you are a CFA or CPA professional you must consider a device with dedicated function keys like interest rates, tax returns, etc. It must be capable of solving cash flows, Net present value amortization, etc.
However, if you are a CA student then you must invest your money in a basic calculator having not more than six functions. As per CA exam rules electronic devices supporting Bluetooth, WIFI, and financial functions are not allowed.          
Before purchasing a calculator for your CA exams, it's crucial to review the latest calculator guidelines provided by the Institute of Chartered Accountants of India (ICAI). The ICAI periodically updates its rules and regulations regarding calculator usage in exams, so stay informed about the approved calculator models and features
1. Carefully Read the Policies of the Institute
Choose according to the rules of your certified institute. You must check whether the product you are buying coincides with the policies your institute has issued for taking the exam.
2. Financial Functions
It must contain mostly used financial functions in it. These functions encompass a range of capabilities, including interest calculations, present value, and future value calculations, net present value (NPV) and internal rate of return (IRR) computations, depreciation calculations, and bond price/yield calculations.
3. Price
Check whether it suits your budget or not. But investing your money in a valuable product will never end you in disappointment.
4. Battery timings
Well, no matter if you are a student of CA or any other discipline related to finance. Know that these calculations are lengthy. So you must choose the product with durable life.
Best Calculators for CA Exams
1. Casio MJ-12GST GST Calculator (Black) – Overall Best Pick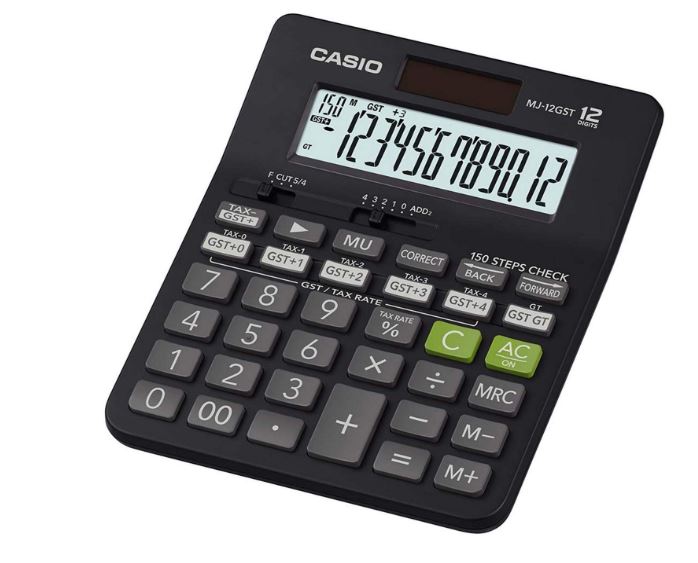 This unit fulfills the criteria acceptable for CA foundation exams. It comes with a maximum of six functions and a twelve-digit large display.
It is made up of a hard plastic case which makes it durable and easy to carry. It is backed by dual power sources i-e solar and a non-rechargeable battery.
Features
Around 5 keys are dedicated to GST calculation. Using these keys you can calculate an increase in GST, decrease in GST, or total GST.
Usually, GST is calculated at fixed values of 0%, 5%, 15%, 18%, and 28%. However one can also assign the value of its own choice.
The problem solver can review and store 150 calculations so you can keep track of the entries in case of any mistakes.
A comma is used to separate the quantity of crore, lac, and thousand.
A special F-cut key has been designed in this unit to round off and preview the answer up to the selected number of digits.
Separate keys have been dedicated for the storage of values. You can use the M+, M-, and MRC buttons to save the value for quick and easy access.
The symbol of the function being operated (+, -, *) is displayed in the top right corner of the display.
Pros
It has an easily readable screen.
It keeps track of the previous entries and allows modifying them.
In case of sudden failure of batteries, you can switch to a solar source.
Cons
The keys make noise due to wobbly touch.
2. Casio Inc. JF-100BM Standard Function Calculator for CA – Best Budget Pick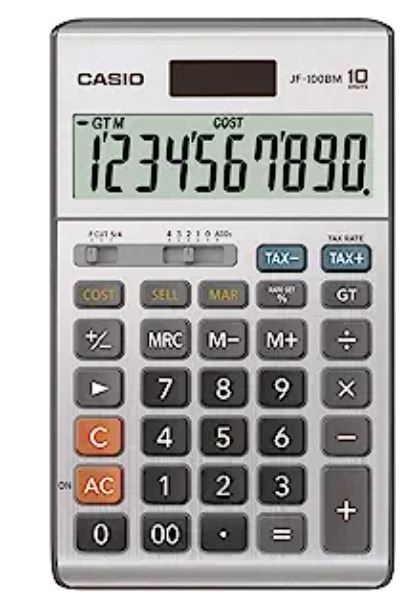 This is a standard function calculator with a ten-digit display. It is lighter in weight and is handy. It accurately calculated tax increases or decreases.
The device uses a comma to segregate lacs and thousands, so you can easily recognize the place values of each digit. It is powered by one LR44 battery and also works on solar charge.
Features
It has a 3.5-inch large display, so no extra effort is needed to read the screen.
F cut key allows you to round off the answer up to the number of digits required.
It has special dedicated keys for cost, sale, tax, and percent rate.
The unit also comes with independent memories which means that you can store the values and quickly access them with one keystroke.
The device itself turns off if not used for a longer period.
The buttons are big enough that minimize the risk of wrong entry.
Pros
Durable.
It comes with a previewable display.
Comes with six basic functions which are allowable for CA exams.
It is cheaper than most of the calculators that offer the same features.
Best for travelers, businessmen, and students.
Cons
3. Casio FX-82ES PLUS 2nd Gen Non-Programmable – Best Scientific Calculator for CA Exam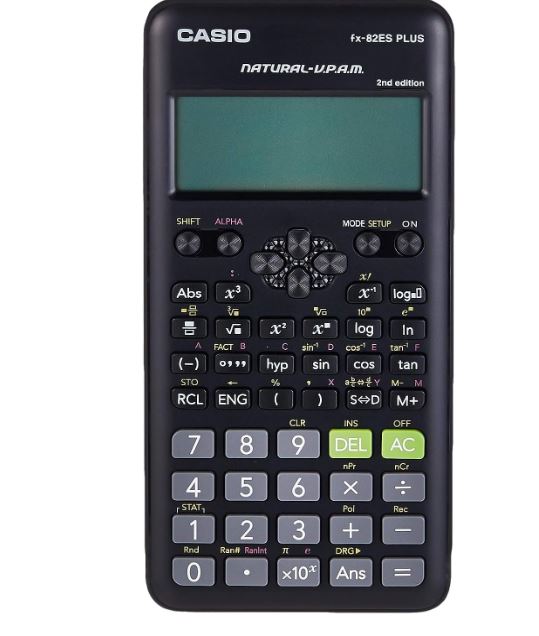 This is an excellent device for CA students. The device comes with 12 digits readable screen. It comes in a sleek design and is easy to carry. It has around 250 built-in functions of math, trigonometry, statistical and financial functions.
The characters on the keyboard are colored white on black, which creates ease for the readers. It is powered by one AAA battery. The package also involves a slide cover to protect the device from any external damage.
Features
It returns the output as a ten-digit mantissa and 2-digit exponential display.
It has a multi-replay function which allows you to review the calculations and edit them in case of any void.
Navigation bars help you to move the cursor up and down, and right and left.
Its colored and soft keypad makes it easy to press and readable at the same time.
Using its QR code you can challenge its authenticity before and after purchase.
It is designed in such a way that it is wear-resistant and drop-resistant, which means that no considerable damage occurs to its case in case the device falls down.
Within three years of use, you can claim its repair or exchange in case of any external or internal issue that occurs in the device.
Pros
All the basic mathematical calculations are efficiently performed by this gadget.
As the device is non-programmable, it can be taken for CA Exams.
Cons
The final result is not separated by commas.
4. Casio DV-220D – Best Casio Calculator for CA/CPA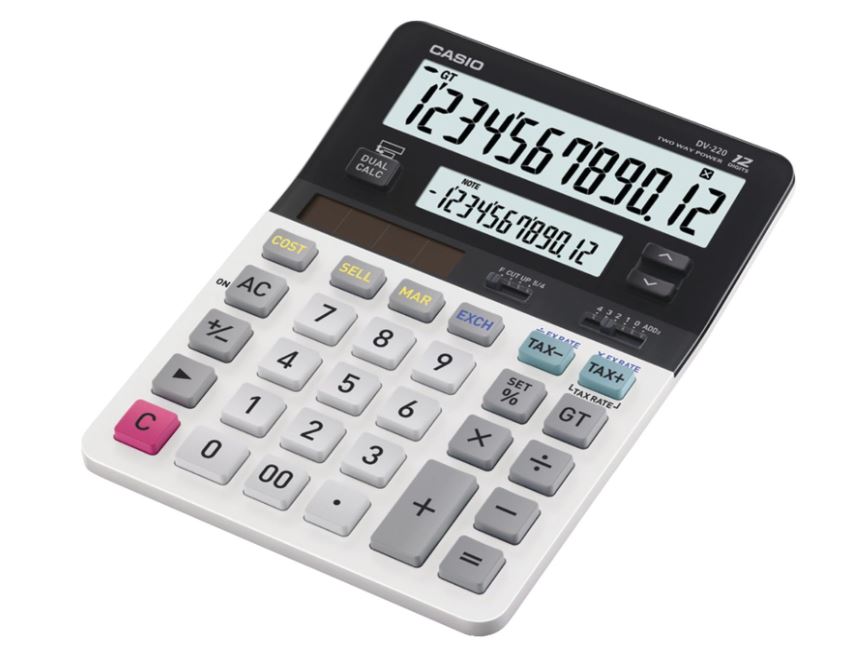 In the CA exam where every second cost you marks, it is inevitable to choose the calculator that has the fastest return rate. So we introduce you to a device that can perform well during heavy workloads.
It comes with a maximum 12-digit display. The build-up is hard and can withstand rough handling.
One LR44 battery is required to make the device functional. It comes in two different colors silver and black. The unit weighs 350 g and is lighter in weight.
Features
The unit can operate all the basic six functions along with some special financial functions like tax calculation.
It also has the ability to round off the figures according to the command given with its specifically designated F cut key.
It has a special feature for rechecking 300 previous entries.
While you are performing a second calculation the unit gives a buzzer sound in case any wrong value is inserted.
The operation being performed is displayed at the top right corner of the screen.
Comma at the top of the value is shown which indicates the place value of the digit.
Unlike other calculators, it has a wider keyboard with large enough keys which makes a firm grip for the user to enter data quickly.
Its hard core of metal makes it strong enough to absorb any external shock.
Pros
Bigger keys help you to enter data as fast as you can.
It is shock-resistant.
It is durable.
Cons
5. Orpat OT-512GT Calculator (Black) – Best Compact Calculator for CA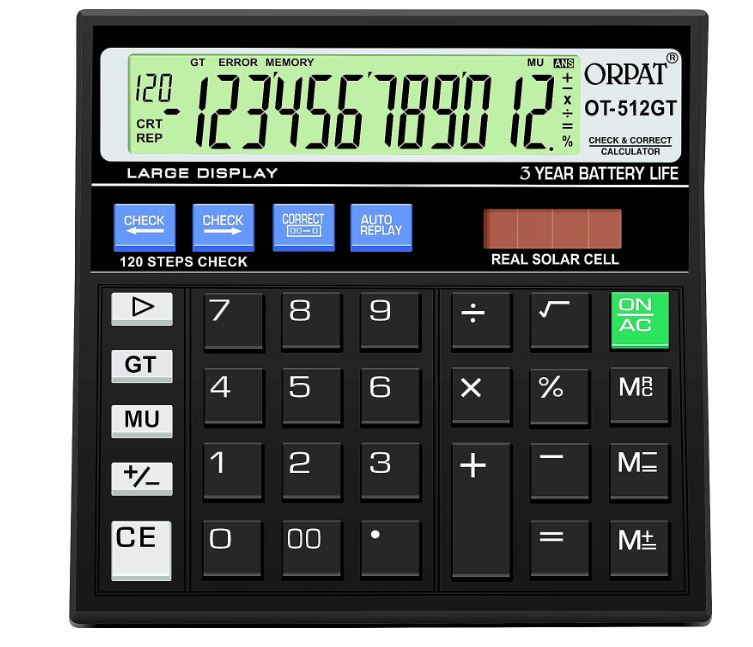 If you are looking for a calculator that is durable and meets the criteria of CA foundation exams, then this is the right device for you.
In this unit, you will get a special feature to calculate markup, grand total, and review or correct the wrong entries previously made.
It has the capacity to recheck 120 entries in case of any error in the final result. The calculator is powered by batteries, however, if you run out of batteries you can use it by recharging it from solar light.
Features
With Its 12-digit large LCD, the user can easily read the digits entered.
Entries are made in a single stroke due to their soft push-up keys.
The comma is automatically inserted to show the place value of the digits.
Its special built-in buttons for markup, grand total, and check to give you quicker access to the functions.
With its 120-step review mechanism, you can keep a history of previous entries made and edit them if needed.
By pushing the check key you can find any wrong entry made in the forward and backward direction.
It is made of hard plastic which makes it drop-resistant.
Pros
It is a good product at a low price.
The battery of this calculator comes with 3 3-year warranty policy.
It is easy to use.
Cons
It lacks advanced functions.
Now let us have a look at the units mostly used by professionals. Some of them are allowed in different accounting exams. But before buying you must check the policy of the institute from which you are going to take the CA, CFA, and CPA exams. As it differs from institute to institute.
6. Texas Instruments BA II Plus – Best for Professionals CA Students
Texas Instrument has always remained a trustworthy name in the electronic industry. They always come up with efficient and reliable devices to fulfill the needs of students of algebra or accounting.
This is an ideal calculator for both professionals and students of accounting. It comes with mathematical as well as financial functions. It is mandatory for CFA exams.
In this unit you will get dedicated keys for the time value of money, i/y is for interest yield or discount rate, PMT is for annuity payment, PV is for present value, FV is for future value, IRR for internal rate of return, and CPT is for compute.
It can also solve NPV and breakeven points. It is multifunctional and can work great for statistics, trigonometry, RCL, and inverse hypotheses.
Features
It comes in the dimensions of 9.84 x 1.18 x 6.69 inches.
The unit has a large enough ten-digit LCD.
It is powered by lithium metal batteries. They are durable and can work for a longer time.
You can set the decimal setting to floating.
It has the ability to solve all problems related to the Time Value of Money. It can compute mortgages, annuities, leases, amortization, and compound interest.
Pressing the down arrow button four times you will get a command 'Chn'. With this setting your device will perform the operations in the order of keystrokes you have made. It is an ideal setting for discounting models in the CFA exam.
AOS format is Texas Instrument's special feature for the algebra operating system. You don't even have to insert values in brackets. It will perform operations as per the BODMAS rule.
The problem solver can also solve linear equations.
It also has 10 memory storage inputs in which you can save any equation for quicker access.
It comes with a softer push keyboard.
The unit is also approved for CFA exams.
Pros
It includes a slide case to protect the screen from damage.
It comes with a detailed how-to-use guide.
It is portable.
It is sleek in design.
Cons
The recheck option is missing.
7. HP 12CP Financial Calculator – Best for CFA & CFP Exams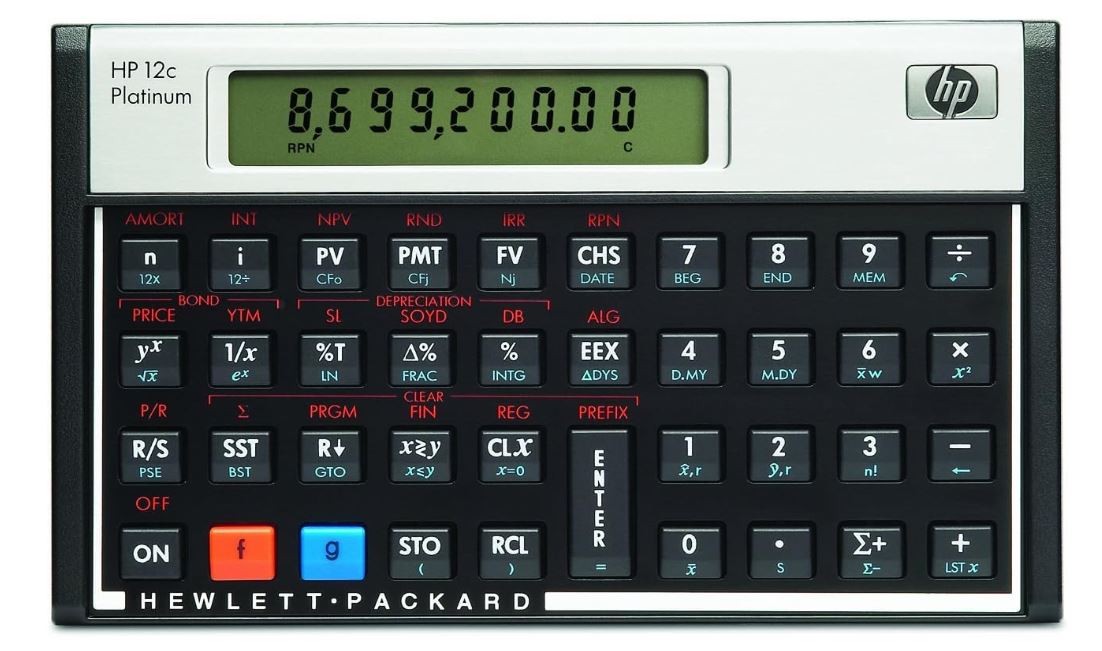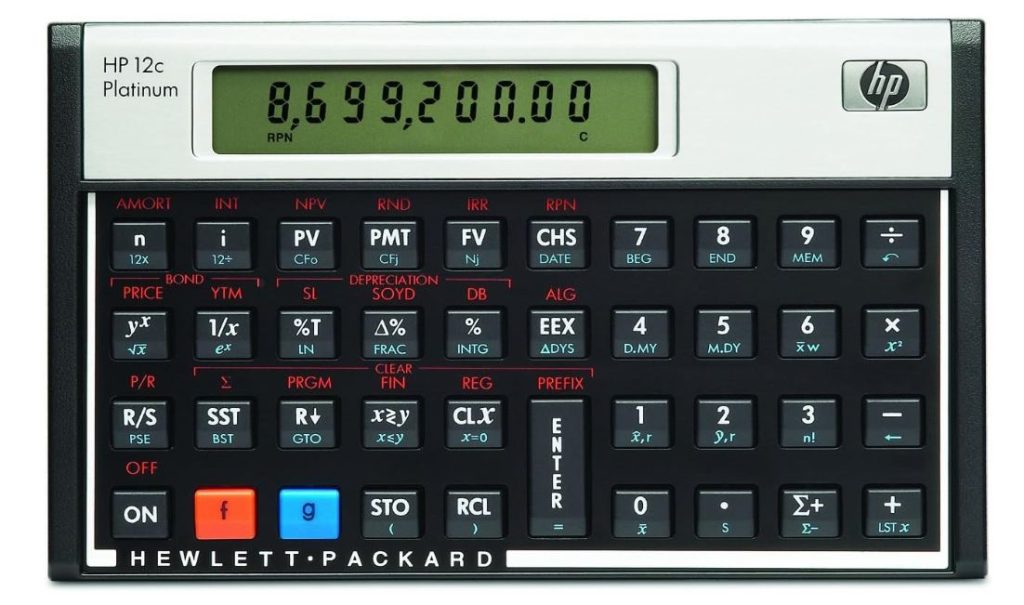 HP has never disappointed its customers whenever it comes to innovation. HP 12 series is completely distraction-free. It is designed as per the rules of CA exam authorities, so wifi and Bluetooth are not made part of its design.
In this unit, they have provided the user to switch between RPN and the algebraic system. It provides memory storage for even and uneven cash flows.
And contains 130 built-in functions to solve problems regarding finance, business, statistics, and math. It can be used by businessmen for day-to-day purposes.
Features
This problem solver is portable and has dimensions of 6*3*1 inches.
It has 10 digits large LCD that is viewable at any angle. Besides it works the same for day and night conditions.
Its sleek design makes it easy to carry with an average weight of 5.6 ounces.
HP 12CP is powered by a 1 CR123A battery that can last for a longer time.
The unit includes built-in financial functions like TVM (loans, savings, and leasing) Amortization Bond and yield to maturity Cash flow analysis NPV, IRR Memory for up to 20 cash flows SL, DB, SOYD depreciation methods % change, % of total.
With its enough storage capacity, you can keep a record of 400 steps.
In case you mistakenly push any wrong key, this unit has dedicated Undo and Backspace features.
Keys have a mat texture. They are a little bit hard to push which leaves little or no room for unintentional insertion of a value.
Using a web browser you can actually use this device before even buying. Some of its features are available online that you can use online and get an idea to put your money in it or not.
It allows you to save any value at ten different locations. Using the STO key you can save the result that you later want to use.
The recall feature can be used to use the stored value later on.
Many of the keys in this product are multi-functional. You can switch their functions by pressing the F and G keys.
The clear button is used to clear the entire previous registry.
This calculator is allowed for CFA, CPA, and GARP FRM exams.
Pros
It has easy to use layout.
It comes with a detailed user manual.
It comes at an affordable price.
The unit is portable.
Cons
The brightness of the screen cannot be adjusted.
8. HP 12C Platinum – High-End Financial Calculator for CA, CFA, and CPA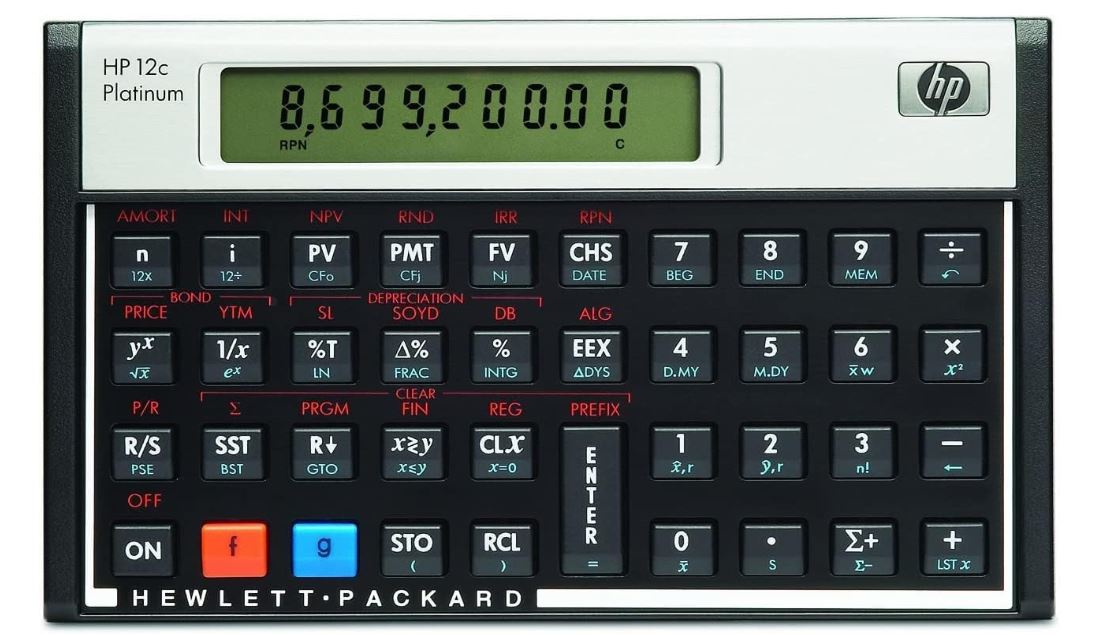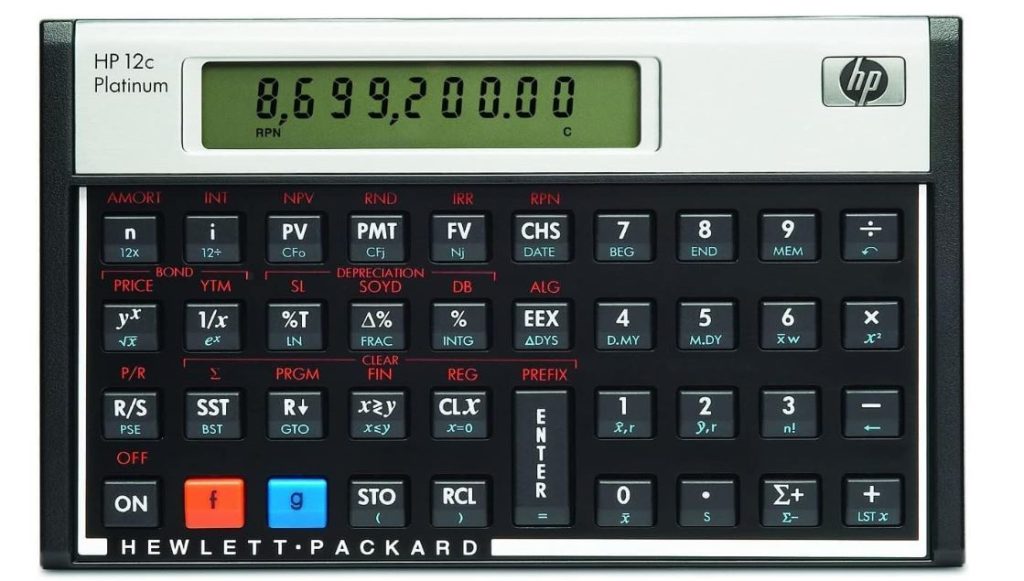 HP 12 C platinum is an ideal product for those who want maximum accuracy in the results within no time. The device is appreciated by students and professionals due to its durability.
It is an innovative model of HP that is six times faster in processing data and has four times the storage space of its predecessor. It can perform various computations of business, finance, and math.
It is powered by 2 CR123A batteries that are energy efficient and need no replacement for years.
Features
Unlike its predecessor, it comes in the dimensions of 3.1 x 6 x 5.1 inches with an average weight of 3.7 ounces.
It has the capacity to display ten characters at a time.
You can adjust the brightness of the screen as per day and night light.
It uses reverse polish notation, RPN which is more effective as it reduces the number of keystrokes, eventually making room for more memory.
On the other hand, it can also work on AOS, an algebraic operating system which means that operation will be performed on the basis of the BODMAS rule.
Business and finance functions include TVM (loans, savings, and leasing), amortization, bond price and yield to maturity, and registered-based cash flow analysis with memory for 30 cash flows.
It can keep a record of 400 keystrokes.
A padded carrying case is included to prevent the unit from wear and tear.
It has four rubber stands to prevent the calculator from sliding.
It can be used on CFA, CMA, GARP FRM, and CFP exams.
It has around 39 keys. Each key has a dual function.
To use the blue functions of the keys you need to press the 'g' key first. Similarly to use red function keys you need to press the 'f' key first.
It comes with a CD in which a detailed how-to-use guide is offered in different languages.
Pros
It comes with a quick start guide.
A protective case is included in the package.
The brightness of the screen can be adjusted according to need.
Cons
It lacks mathematical functions.
9. HP 17 BII+ Financial Calculator – Best for Finance Courses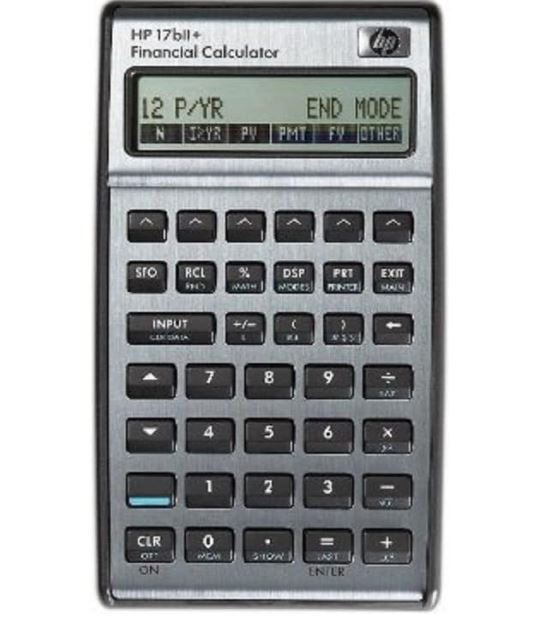 This is another beast designed by HP to entertain the students and professionals of finance, business, and accounting. It has all the basic features for simple computations of statistics and math.
The machine is permitted for certified exams such as CFA/CPA students. What makes it more attractive than other host calculators is that it supports customization of prompts and menus at per user's convenience.
It comes in the dimensions of 6 x 3 x 1 inches. With its 28KB user memory, you can access the history of your calculations whenever needed. A clear 2-line display is able to preview 22 characters at a time.
The unit is powered by 2 Lithium Metal batteries that are included in the package. It weighs 3.88 ounces and is lighter to carry.
Features
It comes with more than 250 built-in functions.
This unit is efficient in calculating loan payments, interest rates, currency conversions, depreciation and percentages, mortgage, bond price, and yield calculation.
It also loves evaluating the problems of the Time value of money (TVM), NPV, IRR, and list-based cash flow analysis.
With its statistical features, you can solve numerical correlation forecasting (linear, logarithmic, exponential, and power) and standard deviation calculations, etc.
HP 17II plus financial calculator has a user-friendly interface. The best thing about this unit is that it comes with power-off memory protection and plenty of memory storage.
It supports RPN and Algebraic data entry mode. One can choose the mode of its own choice to perform operations.
It comes with more than 250 built-in functions and dedicated keys for menus and prompts.
With its customization feature, you can create an equation of your own choice.
Soft push is needed for keystrokes.
Pros
It allows adjustment of LCD brightness as per day and night light.
It can easily switch from RPN to algebraic entry mode.
It returns output efficiently and accurately.
It is affordable.
Cons
It lacks trigonometric and other advanced financial functions.
10. Casio FC-200V – Best Solar-Powered Financial Calculator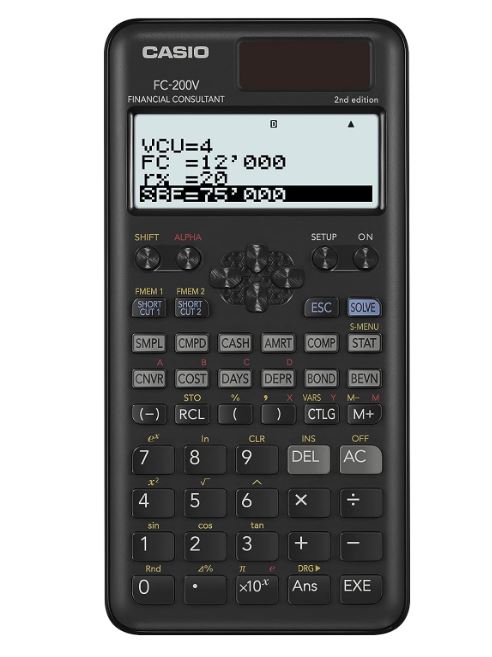 Casio always comes up with simple, durable yet upgraded technology. If you are looking for a user-oriented, affordable device that can perform basic to advanced-level calculations, then Casio FC-200V is the right option for you
This unit promises accuracy with its fastest processor. Its full dot 4-line display previews 12 characters at a time that can be easily viewed from any angle. With its shortcut keys, you can store and access any function or value for future use.
The unit can calculate financial functions like Depreciation, Bond calculation, Break-even point calculation, Simple and Compound interest calculation, and conversion between nominal interest rate and effective interest rate.
Features
The unit comes in the dimensions of 8.39 x 5.91 x 1.38 inches and weighs 3.88 ounces.
1 LR44 batteries are required to run this device.
Its 12-digit four-line large LCD displays the entire input field on the screen so you can enter the values as you enter them on your PC.
It works on dual power sources i-e solar panels and a backup battery. So you need not worry in case of a power cut.
It has designated keys for storing and recalling.
Statistical functions are also included in the device.
It comes with a hard protective case.
Keys need a hard push to prevent accidental clicking.
Pros
It has easy to use interface
.
Cons
It does not display a comma to differentiate the place values of the digits.
FAQs
Are calculators allowed for CA foundation exams?
Well, the rules vary from country to country. However, most of the CA-taking authorities do not allow any electrical device in the examination center.
It is often mandatory to bring a calculator with a 12-digit display having not more than six functions.
Simply calculators with no scientific functions are allowed in the exam. Devices with up to six functions, twelve digits, and a maximum of 2 memories are acceptable.
Are financial calculators allowed for certification exams like CFA, CPA, CFP, and FINRA?
If you are enrolled with a reputed accounting institute, they only allow calculators with specific financial functions in the examination hall. So before purchasing a calculator, you must go through their policies briefly.
For the accounting exams like CFA, and CPA only certified sets of calculators having special financial functions are allowed.
Can a scientific calculator help in solving financial problems?
Basic-level calculations in which simple functions are required can be solved with the help of a scientific calculator. However advanced computations in which financial formulae are required can only be evaluated by financial devices.
What is the difference between financial calculators and scientific calculators?
Just like a scientific calculator is designed to solve the problems of math, science, algebra, statistics, trigonometry, etc.
Special features regarding these subjects are made part of its programming to return the output efficiently and accurately. Well, you can solve accounting problems manually using its basic functions, but it will consume most of your time.
On the other hand, a financial calculator has dedicated financial features. It has financial prompts that help you to enter the data directly and process it without any hassle.
Does my graphing calculator work for finance or accounting problems?
Graphing calculators like TI 83 PLUS, TI 84 PLUS, and its successors have excellent graphing capabilities.
They have a special feature called spreadsheets. This feature helps you to program formulae of your own choice.
It can help you solve multiple financial equations. But once again extra time will be spent to program such a calculator
Conclusion
In this article, we have put our efforts into explaining the best calculators for the CA examination. All of these products have some special features. Some of them are recommended for finance students as they have been designed with financial functions.
While others come up with optimal functions and are designed to fulfill the needs of the examination hall. You can choose the one that better suits your needs.